We can all relate to the feeling of being lost, particularly when we're trying to be productive or meet a potential new employer or business partner. Whether we are new to the office or visiting a different department in a large company, good wayfinding is the key to easy indoor navigation.
Good wayfinding design and colour is the first visual indicator of the overall functioning of the organization. It can be a powerful recruiting and retention tool when thoughtfully implemented. It can also provide a subtle statement about the values and mission of the company.
Candidates that are shown a well-organized office environment are more likely to form a good impression of the company, making it easier to get top talent in the door.
Offices that feel comfortable and easy to navigate for staff can improve retention and keep turnover down. This is especially true for design that sets a strong focus on branding, as it gives the office community a feeling of cohesion and common purpose.
Offices that present a well-designed way finding approach via joinery and colour selection gives a great first impression to a visitor, whilst presenting professionalism and sound practice to potential partners or investors.
The importance of colour in the workplace, is now something that organizations are embracing for their subsequent benefits and the effects that specific colours have on our moods. Colour is deeply ingrained into our lives (conscious and sub-consciously) and affects how we interact with brands and our environment. What was once merely a stylistic choice, is now used as a tool to connect not only brands with their customers but now equally as importantly, employees. AS such, we cannot rely solely on a coat of paint to reap the benefits that colour has in the workplace, rather it is a combination of colour, lighting and texture.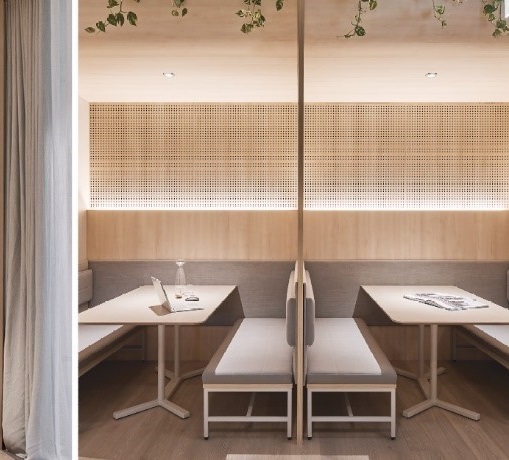 Polytec's Commercial and Architectural range of products equip architects, designers, and product specifiers with an exclusive and ground-breaking catalogue of decorative surfaces that brings unique designs to fruition.
Commercial and Architectural ranges encompassing Melamine, Laminate, Compact laminate, Partitioning Systems, Steccawood, and Architectural Internal Doors deliver products that are durable, timeless and fit-for-purpose. All sheet sizes in polytec's Commercial range have been specifically created to suit the unique requirements of commercial projects, whilst Steccawood and Architectural Internal Doors provide a fully finished product. The range contains an array of colours available in Ravine, Woodmatt, Matt, Texture, and Smooth for the ultimate design flexibility.
Commercial and architectural environments require materials that are multi-faceted with layers of functionality and a sophisticated, modern style. polytec offer new, versatile solutions that deliver high-quality performance whilst being accessible and affordable. polytec's Commercial and Architectural ranges allow for the application of clever visual interest in offices, retail spaces, restaurants, bars, and hotels, and used to achieve sweeping interior transformations.
Utilise polytec's Partitioning Systems for a made-to-order flatpack solution, perfect for toilet cubicles, changeroom partitioning and public & leisure spaces. Manufactured using 13mm Compact laminate, polytec's new Partitioning Systems are totally impervious to water and have outstanding stain, impact, and wear resistance along with antibacterial accreditation for Smooth and Matt finishes.