In the daily struggle for implementation of sustainable actions in the field of architectural practices, one of the ways to contribute to the reduction of the construction industry pollution is certainly the reuse of objects whose original purpose has been terminated. Finding ways to recuperate and revitalize abandoned structures built to satisfy the needs that no longer exist is a form of recycling and reusing the material, in this case – architectural space, through new life cycles.
New WÜRTH Serbia Training & Test Center in Belgrade is constructed inside a former 540 m² warehouse and it consists of two main spaces. A 270 m² multi-purpose training space can easily be transformed into different room set-ups by movable walls Type 100 to serve any programmatic purpose from series of individual classrooms or offices, to conference space, gallery or even a party venue.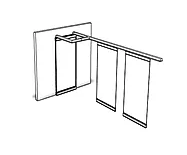 Omni manually operated panels offer optimum space flexibility.
Available in single or double point suspension.
Unparalleled quality and acoustic performance. 
FEATURES & BENEFITS
Edge-to-edge surface allows for look of seamless, solid wall when closed
Interlocking vertical seals for superior acoustics
Industry-leading quick-set operation of mechanical seals
Integrated operating handle assures an easy use and movement of panel
Multiple finish options with anti-fingerprint, veneer, acoustic and digital print as well as vinyl, antibacterial, magnetic and writable finishes