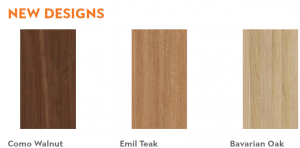 The COLOURpyne® range features a palette of contemporary and classic prints from solid and special colours to authentic woodgrains, including leading edge colours and designs featured in the Naturale range.
Elegant, practical and versatile COLOURpyne® is a tough, scratch resistant and hygienic surface which can be used on cupboards, shelves, pantries and cabinets, storage units, bathroom cabinetry, wardrobes, general shelving, and much more. Melamine technology ensures high quality, durable panels available in a variety of colours and surface finishes. The complete range is matched with a tough and durable ABS edging.
Surface Finishes
Changing the look of your COLOURpyne® Melamine can be as simple as changing the surface finish*.
Gloss: a smooth, shiny finish.
Décor: A lightly textured orange peel like surface.
Naturale: An embossed natural woodgrain like surface.
Velvet: A delicate eggshell surface.
*Not all colours are available in all finishes.
To download the brochure click here
To request samples click here or contact us to ask a question.