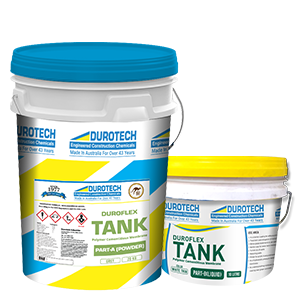 Duroflex tank is a two component polymer modified cementitious coating designed for waterproofing concrete and masonry surfaces in a variety of applications. Applied by roller, brush, trowel or spray methods, once cured Duroflex tank provides a protective barrier to concrete surfaces against salts, chlorides and carbonation. Designed for use in permanently wet and damp conditions including applications such as:
Internal wet areas, bathrooms, laundries and tiled areas
Balconies, decks, podiums, terrace floors
Parapet and feature walls
Water features, swimming pools
Potable water storage facilities, retention tanks and general water tank areas
Planters, retaining walls, earth shelters
General tiled areas to prevent moisture ingress
Based on unique cross linking polymer technology, Duroflex tank displays outstanding adhesion properties over numerous building substrates including concrete, masonry, renders, screeds and cement based mineral surfaces. No priming is required as Duroflex basement bonds to clean pre-dampened surfaces free of surface water. For applications where finishes need to be applied over this membrane, tiles, renders, textures and solvent free paints are able to be directly applied to the cured Duroflex tank surface.
Handles ponding and permanently wet conditions, will not re-emulsify
No primer required, bonds to damp surfaces
Flexible with good elongation properties
Can be applied on vertical and horizontal surfaces
Resistant to chloride attack, carbonation and salts
Bonds to concrete surfaces after 48 hours of application; bonds to renders, screeds etc after 16 hours of application
Compatible bonding properties for tile adhesives, screeds, renders and texture coatings
Suitable for internal and external surfaces
Suitable for immersed and underground areas