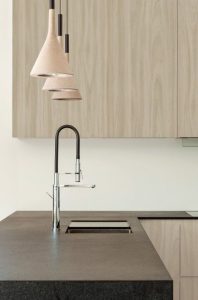 Colourpyne® Melamine Panels are low-pressure laminated panels available on both E0 MDF and, for an even greater saving, E1 Particleboard substrate. They are available in Standard as well as Highly Moisture Resistant (HMR) grades. All Colourpyne panels have the same tough scratch resistant surface, whether the substrate is Particleboard or MDF. The substrate choice depends on specific project application and budget.
Colourpyne® Melamine Panels provide the ideal solution for all internal joinery decorative face panels, in both residential and commercial applications.
To download the brochure click here
To request a sample folder click here
Image above- Kitchen in Colourpyne® Coastal Elm.