Symonite HD Fit for Purpose
Research from Australian and international Scientists have made many findings on climate changes and the impact it is creating to our everyday lives. This not only has made us re think our personal values on environmental change, but is now impacting on the way of which we build our homes.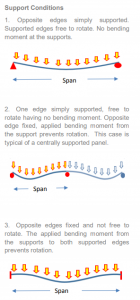 Improving the construction process that attach the walls and the rest of the house, making homes more resistant to severe wind damage and furthermore wind driven rain and hail. Symonite HD has proven impact resistance of up to 300% greater than any competitive aluminium composite panel, perfect for resisting hail damage.
The wall structure bears the ultimate load from windward and leeward side, therefore consideration should be given when making the cladding selection.
Symonite HD offers maximum deflections data for the range of spans between 400 mm to 1200 mm in 10 mm increments.