Hufcor Operable Walls will Provide Years of Integrity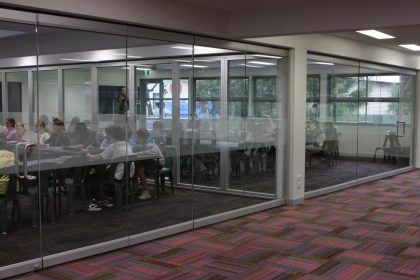 As education facilities evolve into more flexible spaces, operable walls and sliding doors are more frequently specified. An operable wall divides available space enabling flexibility whilst sound rated panels still allows for effective noise control. When sound waves strike a partition, some are reflected from the surface staying in the same room as the source of the sound. Some are absorbed by the material of the partition, being converted to heat energy and some are transmitted to the other side. When a plenum barrier is used, the sound blocking performance of the wall or door increases. When positioned above interior partitions that stop at the height of the suspended, acoustic ceiling, a plenum barrier board stops noise and speech from traveling between rooms through the plenum above the ceiling.
Flexible and efficient space utilisation is becoming a must. Intelligent solutions are needed that facilitate multifunctional room configuration combined with openness and – when required – transparency as well. Hufcor operable wall systems give the benefits of natural light along with sound insulated rooms.
Movable, interlocking panels suspended from an overhead track system should be;
Sound rated panels for effective noise control
Available in paired (folding) and individual (omni-directional) configurations
Can include access doors for easy entry and exit
Blend with a room's aesthetics, similar to a permanent wall when extended
Available in a wide range of colours and finishes, including: Vinyl, fabric, veneer
Combination of either, glass (for visual interconnectivity) or non-transparent substrates for privacy
Sliding top mounted glass framed doors