Hufcor Operable Walls – Creative Space Management for Aged Care Facilities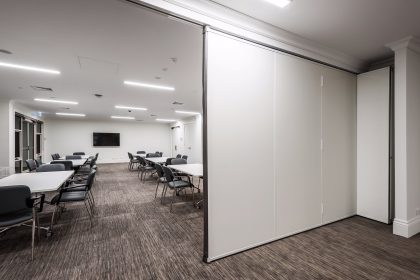 The flexibility that operable walls offer can significantly lower operational costs. Due to operational changes and future patient profile, operable walls offer significant space adaptability. Allowing for changes to two spaces such as interlocking rooms, for example enabling residents and couples to share spaces with the flexibility that when the division of space is no longer required, it can be reconfigured accordingly.
Space is becoming more premium and the demand to do more for less increases space adaptability and effective space management is therefore critical.
The benefits of Hufcor operable walls include:
Sound rated operable walls with effective noise control
Mechanical seals with an upward and downward force
A private space can be created immediately
Movable, interlocking panels suspended from an overhead track system
Access doors for easy entry and exit