Friday, 27 November 2020
by IN2AP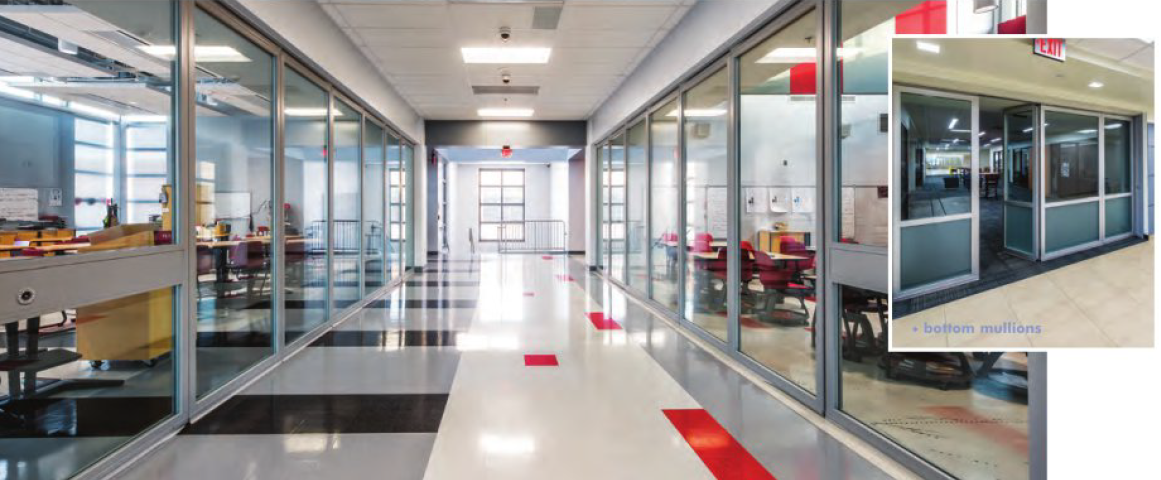 main image
Schools enjoy the benefits of acoustical separation and full daylighting with Hufcor acoustic glass wall.
insets (top to bottom)
Full height inset pass doors and protective bottom mullions offer protection and a design consistency at McKinney High School in Texas.
Spodek dental offices in Del Ray Beach, FL use paired glass wall in their lobby entrance area.
Translucent glass inserts can also provide full privacy yet allows muted daylighting to enter divided rooms with this system using Hufcor mechanical bottom seals.
Color matched aluminium or timber panels can also be used for acoustical separation as shown at this meeting space in Texas.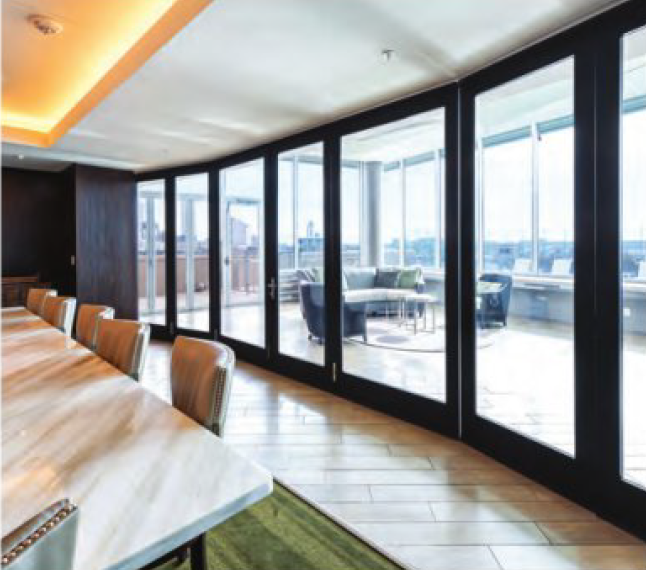 Acoustic Glass Wall Partitions
combine acoustic separation and the aesthetic appeal of glass Panels are of glass surrounded with a nominal 3- I /4″ thick durable aluminum frame with top and bottom sweep seals.
An optional retractable bottom seal with I " floor clearance exerts downward force to help seal out sound and stabilize the panel The frame is of clear anodized aluminum Black or bronze anodizing, Lamb's Wool powder coating, or custom colors are available for an upcharge. Acoustical glass wall panels may be used with the Unispan support system in addition to our standard tracks.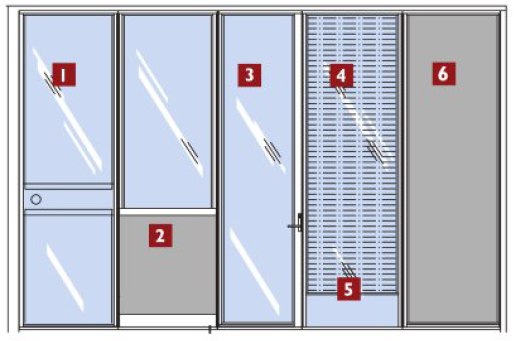 AVAILABLE OPTIONS FOR ACOUSTIC GLASS WALL
Lever Closure Panel – An expanding jamb seals the panels in the opening. When not in use, nothing remains in the opening.
Mullions – Allows for segmented faces.
Inset Pass Doors — Enables access between rooms.
Blinds – Inset in the glass, manual tilt operation.
Mechanical Bottom Seal – Quick-set Hufcor seal systems available.
Solid or Sound Absorptive Faces – Adjacent panels can contain solid or ecoustic matenals.