Be it timber, metal or composite shutters small or large areas, protection from the sun or privacy, remove plastic and replace with composite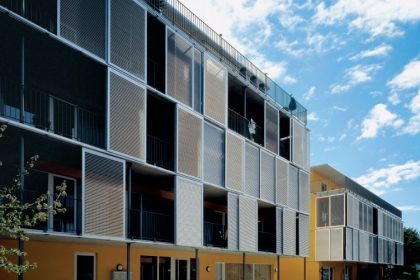 Access for light, air and people must be created and implemented in every building. Hawa slides are made for every requirement and every building situation. For example, the single leaf version is a visually irresistible, space saving solution for doors weighing up to 60, 100 or 140kg. Then there is are Symmetric versions, which make it possible to move two or four sliding shutters synchronously. The sophisticated slide 'Telescopic' range, moves up to four shutters simultaneously with one movement. All systems are available in both manual and maintenance free automatic options, which are supported by the quietest sliding shutter drive on the market. The wind and weather resistance is also impressive. Tested for corrosion and for wind resistance class 6.
As an innovative leader, Hawa recognises emerging design trends and turns them into solid, reliable and long lasting sliding solutions. Hawa offer Façade screens for individuality and climate conditioning, as well as ensuring user comfort with silent sliding doors and ease of motion.
What you can read next