Acoustica's high performing flooring underlay range… the best choice for discerning Education developments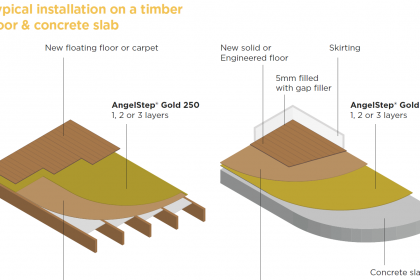 AngelStep® features unique patented technology that combines a sound absorber with impact and vibration damping, to consistently achieve up to the highest 6-star acoustic rating dependent on installation.
AngelStep® GOLD8 is a universal acoustic underlay optimised for all types of floors from timber to bamboo, carpet, parquetry, cork and vinyl. Underfloor heating compatible, AngelStep® GOLD8 combines a high-density sound absorber and cross-linked micro-cellular foam for maximum performance. Its aluminium gold facing can be used up or down for a variable underfloor feel. Dependent on the floor finish, Acoustica will advise if an intermediate layer such as plywood or fibrous cement substrate will need to be installed.
• Maximum acoustic results
Achieve the highest acoustic rating for all types of floors
• Optimised for flooring type
Use AngelStep® GOLD8 foil facing up or down for a harder or softer underfoot feel
• Durable and long-lasting
Moisture and rot resistant, will last the life of any floors